DRIVECRATE
Previous Boxes
Explore what was inside some of our recent boxes!
Scroll through past items and click or tap to learn more about them…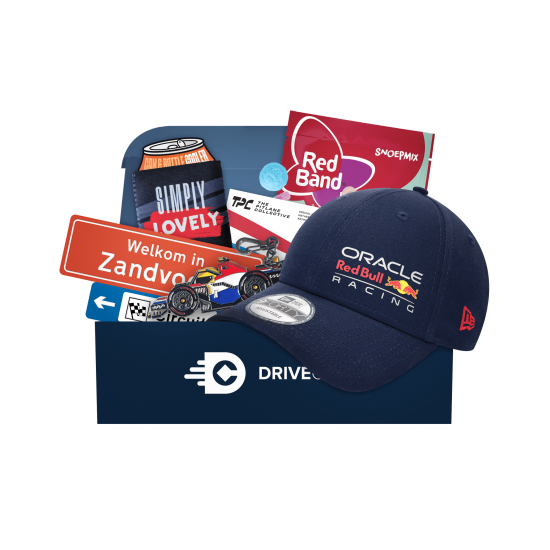 Official 2023 Red Bull Racing Cap
Part of the brand new Red Bull x New Era collection! The durable 9FORTY design and subtle details make this cap the perfect accessory for race day!

Circuit Signs Zandvoort Sign
Another great addition to your Circuit Signs collection! This metal artwork is a replica of the famous signs found near this old school circuit that was first built in 1948!

The Pitlane Collective Keyring
An exclusive item from The Pitlane Collective, this high-quality keyring features the colours of the Dutch flag and adds a bit of racing action to your keys wherever you go!
'Simply Lovely' Can & Bottle Cooler
Celebrating Max Verstappen's famous expression, this cooler keeps your hands dry and your drink cold. Perfect to enjoy whilst watching the action on the track!

Red Band Dutch Candy
A popular candy brand throughout the Netherlands, these delicious sour sweets are a Dutch classic and will have you coming back for more!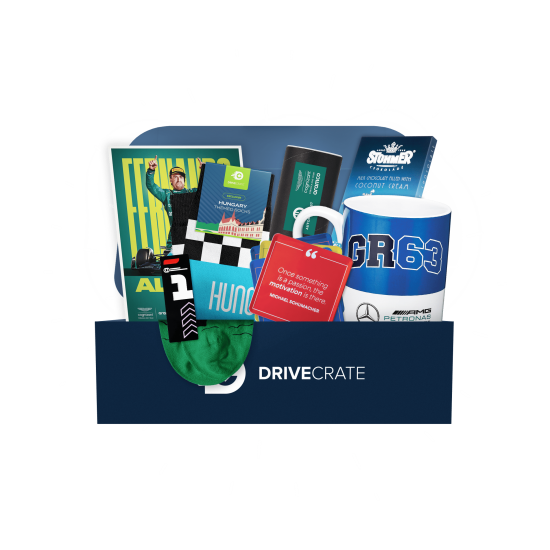 Official 2023 George Russell Mug
Russell scored his maiden pole position here in Hungary last season. Show your support for the British driver with this official item, featuring his famous blue colours and number.

Official Fernando Alonso Poster
An official Aston Martin product, celebrate Fernando Alonso's stellar 2023 campaign. The Spaniard scored his first win in Hungary in 2003 – could he do it again?

Legends Coaster Set
Add a touch of colour and racing history to your desk or coffee table with these premium coasters! All four of these racing legends have stood on the top step of the podium in Hungary!

Parc Fermé Enamel Pin
Translating to "closed park", this famous board can now come with you wherever you go! Could we see someone new park in front of the number 1 board in Hungary?

DriveCrate Exclusive Hungary Socks
Featuring the bright colours of Hungary, these socks are the perfect accessory to wear on race day! The Hungaroring is located near the Danube, the second-longest river in Europe!

Stühmer Hungarian Chocolate
A popular chocolate brand throughout Hungary, the sweet coconut flavour and delicious milk chocolate is the perfect treat to enjoy whilst the cars battle it out on the track!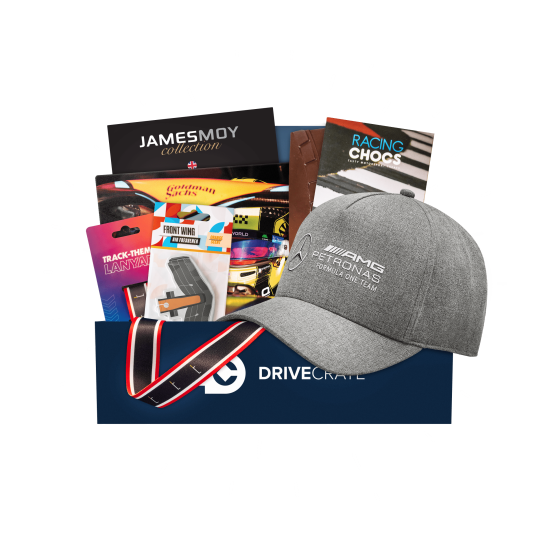 Official 2023 Mercedes Racer Cap
An official 2023 Mercedes item, featuring a unique soft touch material and raised logos. Both Lewis Hamilton and George Russell will be looking to put on a show for their home fans.

James Moy Art Print
An official item from renowned photographer James Moy, who is based near Silverstone. Printed on premium metal, show your support for Britain's Lando Norris and McLaren.

Track-Themed Lanyard
This exclusive item is the perfect accessory for race day or at the office! Made from durable materials, the lanyard also features a heavy-duty metal clasp.
Racing Chocs APEX Chocolate Bar
Created by motorsport chocolatier Racing Chocs, this chocolate bar is in the shape of a racetrack curb. Produced near Silverstone, this bar combines chocolate and racing – what could be better?!

Front Wing Air Freshener
Box Box Box – time for a front wing change! This design is the perfect way to add a touch of racing to your car!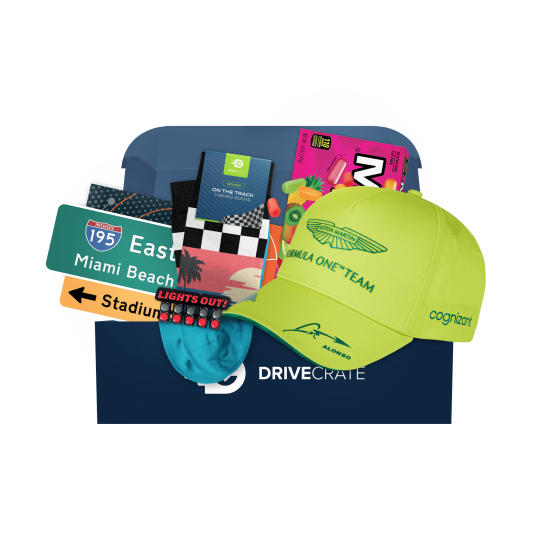 Official 2023 Aston Martin Cap
We've managed to secure some of the most popular merchandise of the season! Designed alongside BOSS, this brand-new cap is made from recycled materials and features subtle Aston Martin details.

DriveCrate Exclusive Miami Socks
Miami is a colourful and bright track, featuring bold colours throughout the circuit. Perfect to wear when you're looking to add a touch of motorsport to your outfit!

Replica Miami Circuit Sign
Featuring the pastel colours of Miami, this sign is a perfect replica of the signs found near the track during race week! Over 250,000 fans will head past these signs en route this year!

Lights Out Enamel Pin
Great to add to your backpack, pin board or lanyard! This pin perfectly captures the excitement we all feel when it's time for 'Lights Out!'. Bring the track with you wherever you go!

Mike and Ike Tropical Typhoon
This classic American candy has a chewy texture with a mix of fruity flavours. Feel closer to the action and enjoy them while you watch the drama unfold in the Sunshine State!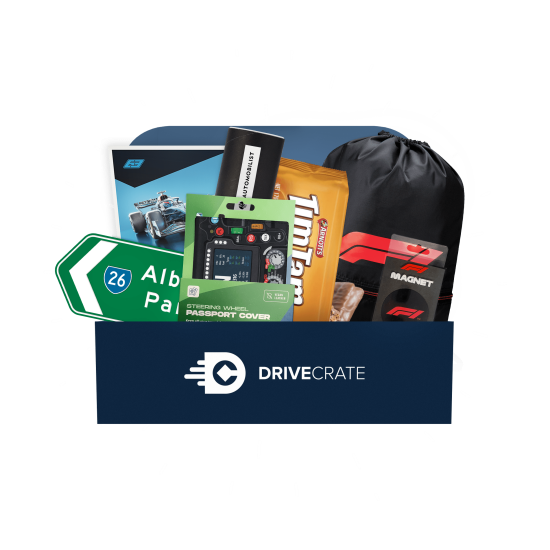 Official F1 Pull Bag
Bring a touch of F1 with you wherever you go with this slick bag, part of the brand-new collection from F1.

Official George Russell Poster
Celebrate George Russell's maiden podium for the Silver Arrows, this time last year in Australia, with this Official Mercedes product!

Official F1 Magnet
This magnet features a sleek and stylish design, adding a touch of speed and excitement to your fridge or locker!

Steering Wheel Passport Cover
Whether you're heading to the race track or jetting off on holiday, this passport cover is the perfect accessory for any globetrotting fan.

Albert Park Circuit Sign
Situated in the Melbourne central business district, build your collection with this replica Albert Park sign from Circuit Signs!

Australian Tim Tam Biscuits
The Tim Tam biscuit is one of Australia's most iconic snacks. These delicious treats are perfect to enjoy whilst you watch the action in Melbourne!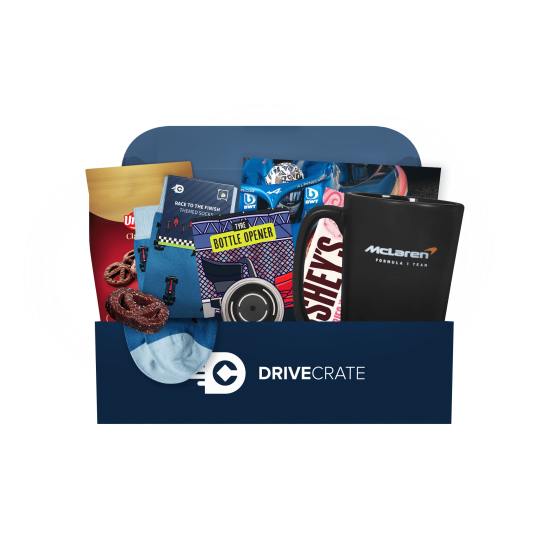 Official McLaren Team Mug
Featuring an elegant finish and bold McLaren logo, show your support for Lando Norris and Oscar Piastri in 2023 with this premium mug. Will the papaya cars take a step forward this year?

DriveCrate Exclusive Socks
Get ready for the season ahead with these comfy socks, exclusive to DriveCrate! This season is tipped to be close, will it be Red Bull against Ferrari again or will someone else join the mix?

Tyre Bottle Opener
Enjoy a cold drink with this awesome bottle opener! With the cars testing in day and night conditions, the new machines will be subjected to temperatures up to 30°C (85°F) in Sakhir!

Licensed Gasly Alpine Print
Pierre Gasly will be looking to clock up the miles during testing this year as he gets to grips with his new car! Here's the new pink number 10 pictured during last year's post-season test.

Cocoa Pretzels & Hershey Bar
Tasty pretzel biscuits and sweet chocolate are great snacks to get you through testing. What are your predictions for what will happen in Bahrain? Let us know on social media!