DRIVECRATE
PREVIOUS BOXES
Explore what was inside some of our recent boxes!
Scroll through past items and click or tap to learn more about them…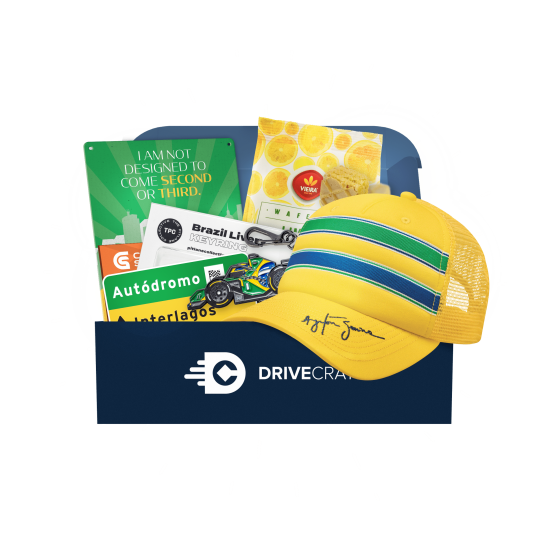 Official Ayrton Senna Brazil Cap
Part of the official 2022 Senna collection, this cap is based on the Brazilian's famous helmet design and features Ayrton's iconic signature on the peak.

DriveCrate Original Senna Quote Sign
The three-time world champion gave the sport some of its most memorable quotes during his career. This statement perfectly sums up the Brazilian's quest for perfection.

The Pit Lane Collective Brazil Keyring
We've teamed up with The Pit Lane Collective to bring you this exclusive, Brazil-inspired livery keyring. Bring the energy of Brazil with you wherever you go!

Circuit Signs São Paulo Magnet
Another great collectable from Circuit Signs. Featuring the famous green and yellow colours of the country, you'll definitely know you're arriving in this amazing city!

Lemon Wafer Bites
The sweet lemon flavour pairs perfectly with light wafer biscuits to give you a delicious treat. Perfect to enjoy whilst watching the action at Interlagos!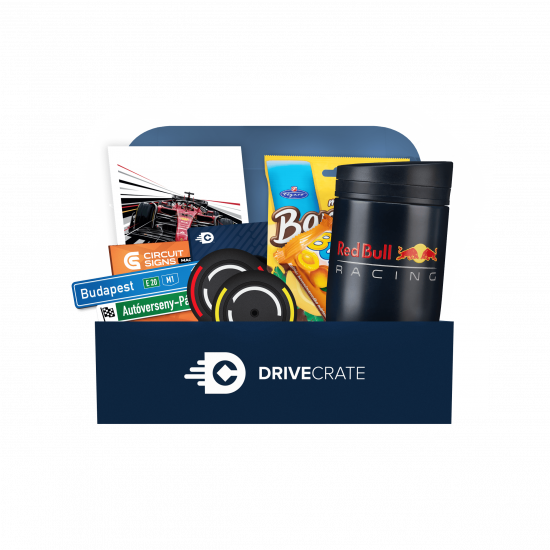 Red Bull Racing Reusable Mug
Part of the new 2022 Red Bull Racing collection, this handy mug is the perfect way to show your support for the Austrian title chargers. Red Bull will be hoping for better luck at this year's Hungarian GP, after being involved in the messy first corner crash last year.
Circuit Signs Hungaroring Magnet
Part of the brand-new magnet collection from Circuit Signs, this slick magnet is a replica of the signs found around the Hungaroring. A great collectible for any motorsport fan!

DriveCrate Original Tyre Coaster Set
Made from 99.5% recycled plastic, 40% of which is recycled road tyres, these coasters are a great addition to your desk at home or at work!

Figaro Mini Bananas
A delicious treat produced by confectioner Figaro, these sweets have a unique banana flavour. Coupled with rich chocolate, they'll have you coming back for more!

Bombi Apricot Gingerbread
Bombi is a popular snack enjoyed throughout Hungary. With a sweet apricot flavour, this treat is perfect to enjoy whilst watching the action in Hungary!

F1-75 by OMAC Design
This stunning print from OMAC Design depicts Charles Leclerc in his F1-75. The Monegasque driver will be looking for better luck in Hungary after crashing out of the lead in France!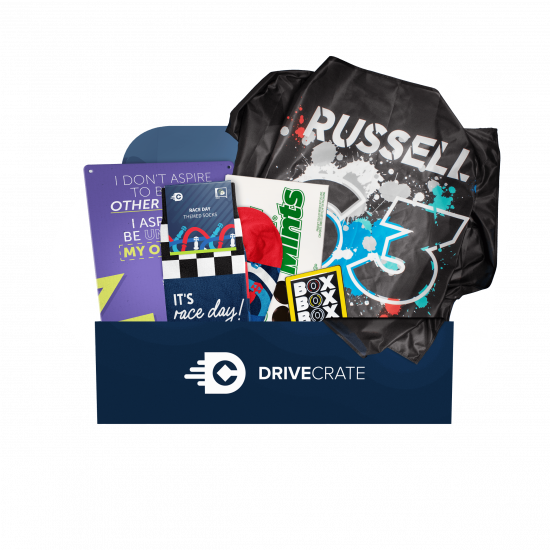 Official George Russell 2022 Flag
Wrap it around your shoulders or hang it on your wall, this brand-new official Mercedes 2022 team item is the perfect way to show your support for Britain's new superstar.

DriveCrate Original 'Race Day' Socks
Perfect to wear when you're at the track this year, these socks are a great way to show your love for the sport and get yourself ready for when those five red lights to go out!

Exclusive 'BOX BOX BOX' Pin
Another great item from Across The Line, this enamel pin is a great collectible and stylishly captures one of the most famous phrases in motorsport.

DriveCrate Original Metallic Print
The Mercedes driver is the most successful driver at the British GP. Hamilton is known for doing things his own way. This metallic poster perfectly captures the 7-time Champion's unique mentality.

Junior Mints Candy
A delicious treat for when you're at the circuit this year, these tasty mints will keep your energy up and have you coming back for more!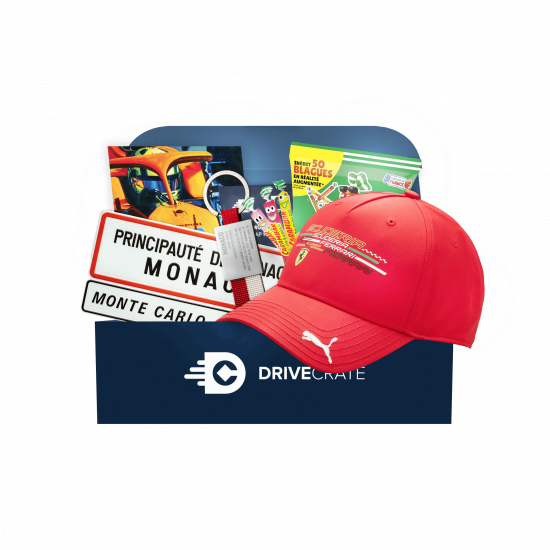 2022 Official Ferrari Cap
Ferrari and Charles Leclerc are enjoying a strong start to the season. Show your support for the Scuderia and the Monegasque driver with this official team item, part of the 2022 Ferrari fan wear collection.

DriveCrate Original Monaco Strap Keyring
Featuring the bold red and white colours Monaco, this exclusive keyring is a great way to show your love for the most prestigious race on the calendar. Part of our new DriveCrate Gear range, start your collection now!

Monaco Replica Circuit Sign
This great collectible from Circuit Signs is an exact replica of the signs seen on the streets of Monte Carlo. Made from premium embossed aluminium, this sign brings a bit of the Principality to your home!

Lando Norris McLaren Artwork
This beautiful acrylic painting by artist Alex Stutchbury depicts Lando Norris in his 2022 MCL36. Do you think the British driver can repeat his success from last year and secure another podium?

Carambar Sweets
Popular throughout the French-speaking microstate, these chewy fruit sweets are a delicious treat to enjoy whilst you watch the action on the streets of Monaco!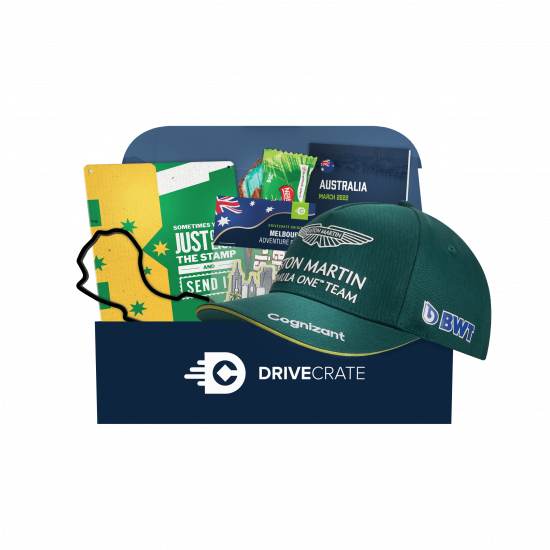 Official Aston Martin Vettel Cap
Sebastian Vettel is the most successful driver at Albert Park on the current grid, winning in 2011, 2017 and 2018. Featuring the German driver's logo and stylish green accents, the World Champion will be looking to take another step closer to the front of the grid.
'3' Metallic Print
Daniel Ricciardo is one of the best late brakers on the grid. The Honey Badger is known to go for daring moves without hesitation, or in his words 'Just lick the stamp'. Peel off the protective film to reveal the stylish matte finish!

Albert Park New Layout Art
Continue to build your collection of these awesome mini circuits! You can see how the track has now been opened up and made much more flowing. Do you think this will translate to better racing?

Australian Peppermint Crisp
Popular throughout Australia, this treat features distinctive green mint flavoured crystals, covered in milk chocolate to provide a unique and interesting experience.

Melbourne Adventure Patch
Once a year, the area around the Central Business District in Melbourne is transformed to produce a unique and thrilling race track. Iron onto your favourite clothing and celebrate the return of this amazing race!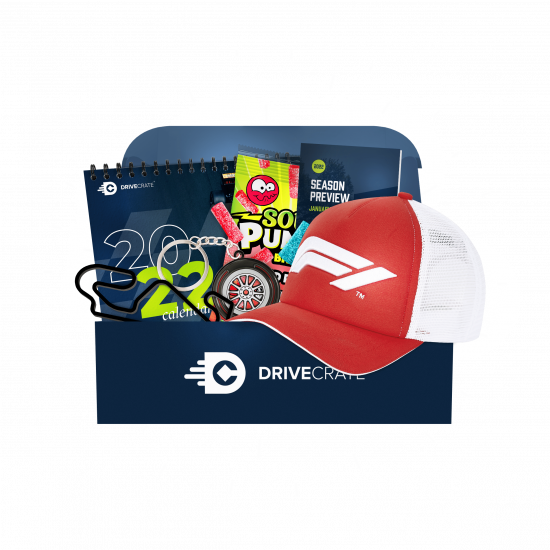 Formula 1 Trucker Cap
There's no better way to celebrate the start of a new generation of racing than with this official F1 cap! Featuring an embroidered 3D logo and contrasting peak colours, show off your love of the sport in style.

18" Soft Tyre Keyring
One of the biggest changes this year is the introduction of the new 18" tyres. The low profile is designed to minimise sliding, which in turn reduces temperatures and allows drivers to fight harder!
2022 Season Calendar
Stay on top of this season's key dates with this handy calendar. We'll be racing in some exotic locations this year, which race are you most looking forward to?

Barcelona Track Art
We'll see the cars hit the track for the first time in pre-season testing in Spain. The teams and drivers know this track incredibly well, however we're sure there will still be some surprises when the cars roll out of the garages in February!

Sour Punch Bites Rad Reds
This season we'll be treated to two races in the USA! The much-anticipated Miami GP makes its debut and we'll also be returning to the now iconic home of the US GP in Austin!