DRIVECRATE
PREVIOUS BOXES
Explore what was inside some of our recent boxes!
Scroll through past items and click or tap to learn more about them…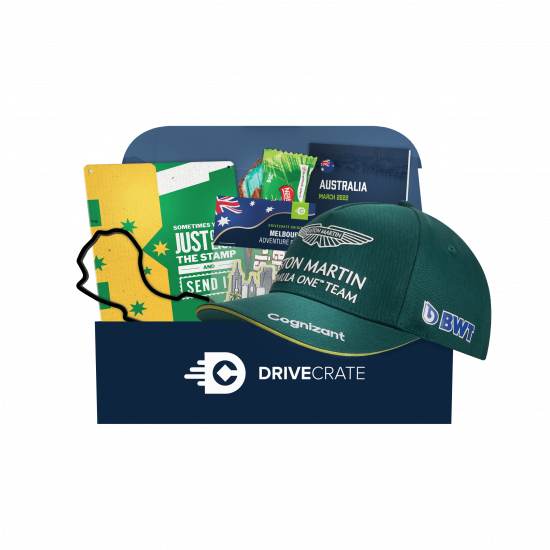 Official Aston Martin Vettel Cap
Sebastian Vettel is the most successful driver at Albert Park on the current grid, winning in 2011, 2017 and 2018. Featuring the German driver's logo and stylish green accents, the World Champion will be looking to take another step closer to the front of the grid.
'3' Metallic Print
Daniel Ricciardo is one of the best late brakers on the grid. The Honey Badger is known to go for daring moves without hesitation, or in his words 'Just lick the stamp'. Peel off the protective film to reveal the stylish matte finish!

Albert Park New Layout Art
Continue to build your collection of these awesome mini circuits! You can see how the track has now been opened up and made much more flowing. Do you think this will translate to better racing?

Australian Peppermint Crisp
Popular throughout Australia, this treat features distinctive green mint flavoured crystals, covered in milk chocolate to provide a unique and interesting experience.

Melbourne Adventure Patch
Once a year, the area around the Central Business District in Melbourne is transformed to produce a unique and thrilling race track. Iron onto your favourite clothing and celebrate the return of this amazing race!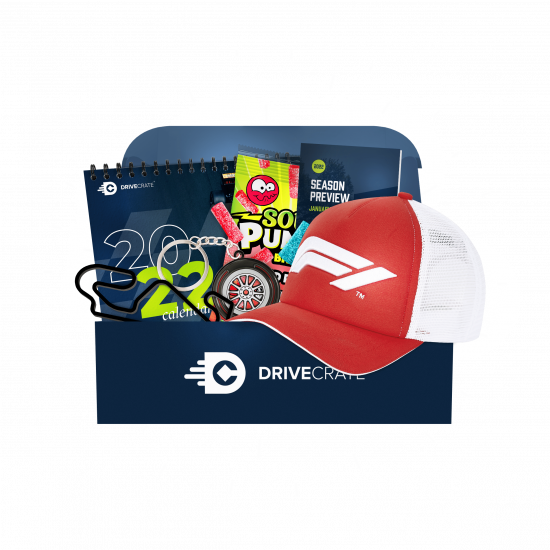 Formula 1 Trucker Cap
There's no better way to celebrate the start of a new generation of racing than with this official F1 cap! Featuring an embroidered 3D logo and contrasting peak colours, show off your love of the sport in style.

18" Soft Tyre Keyring
One of the biggest changes this year is the introduction of the new 18" tyres. The low profile is designed to minimise sliding, which in turn reduces temperatures and allows drivers to fight harder!
2022 Season Calendar
Stay on top of this season's key dates with this handy calendar. We'll be racing in some exotic locations this year, which race are you most looking forward to?

Barcelona Track Art
We'll see the cars hit the track for the first time in pre-season testing in Spain. The teams and drivers know this track incredibly well, however we're sure there will still be some surprises when the cars roll out of the garages in February!

Sour Punch Bites Rad Reds
This season we'll be treated to two races in the USA! The much-anticipated Miami GP makes its debut and we'll also be returning to the now iconic home of the US GP in Austin!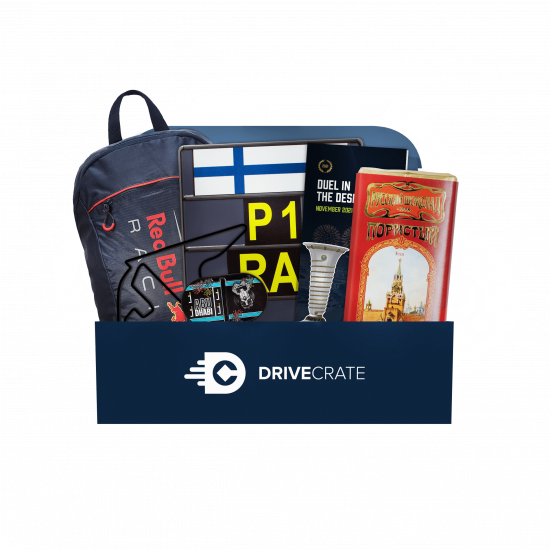 Official Red Bull Racing Bag
Title protagonists Red Bull will be looking to avoid a repeat of their massive Silverstone crash in the final few races of the season. This great piece of official team kit packs away into a built-in travel pouch for when you're on the go.

Circuit Signs Moments Pit Board
Say farewell to the Iceman with this great piece from the new Circuit Signs Moments collection. Perhaps Räikkönen's most famous victory in the sport, Kimi really did know what he was doing when he took victory at the 2012 Abu Dhabi GP.

Across The Line Abu Dhabi Spinning Magnet
Donuts have recently become a bit of a tradition at the end of season Abu Dhabi GP. Celebrate this great moment with this unique item, featuring a magnetic backing and awesome spinning car!

Yas Marina Track Art
Another one for your collection, you can see how the new layout has changed the circuit dramatically. Average speeds have increased, with lap times expected to drop by 10 to 15 seconds!

WDC Trophy Sticker
The biggest achievement in motorsport, the stunning World Drivers' Championship trophy is the prize every driver wants to receive. Who will it be this year?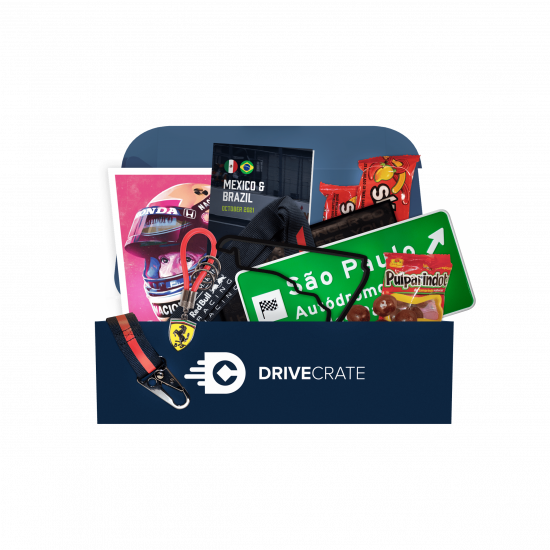 Official Scuderia Ferrari Keyring
Ferrari have won twice at the Mexican GP and have also won an impressive 11 times at Interlagos. Support the scarlet cars with this stylish keyring, featuring a metallic prancing horse and handy rubber strap.

Official Red Bull Racing Lanyard
Red Bull's new signing Sergio 'Checo' Pérez has endured a mixed season so far, the highlight being his dramatic win in Baku. Show your support for the Mexican driver as he takes the fight to Mercedes with this official team item.

Autódromo José Carlos Pace Circuit Sign
Continue to build your collection of replica road signs with this fantastic piece from Circuit Signs. Thousands of fans from across South America make the trip to São Paulo every year.

Mexico City Track Art
This great collectable captures the long straights and the fast, sweeping middle sector of the Mexican circuit. You can see how the once infamous Peraltada corner at the end of the lap is now sliced in half by the new stadium complex.

Skwinkles and Pulparindots
These authentic snacks imported from Mexico feature a unique mixture of sweet, salty and hot flavours. A true taste of Mexico, these sweets are perfect for any spice lover!

Tom Griffiths Senna Print
A stunning piece from artist Tom Griffiths, perfectly capturing the iconic helmet design of the three-time champion. A beautiful tribute piece for any fan. For more artwork visit tomgriffiths.online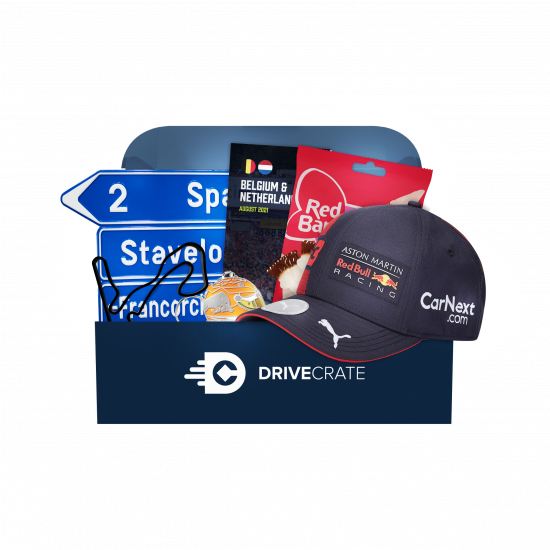 Official Max Verstappen Cap
Show your support for the Red Bull driver with this official team item. Verstappen has never won in Belgium or raced in front of his home crowd in the Netherlands - do you think he can take the top step at either event this year?

Spa-Francorchamps Replica Road Sign
Another great collectable by Circuit Signs. Spa is one of the most famous race circuits in the world, seeing thousands of fans make the pilgrimage to the circuit every year. This mini sign is embossed on aluminium and is an exact replica of the road signs found in Belgium.

Zandvoort Track Art
Add another track to your collection with this great piece from World Race Circuits! Zandvoort is a short and twisty circuit that punishes mistakes. Do you think the new track configuration will produce some great racing?

Red Band Cola Punthoofden
Dutch confectioner Red Band have been making classic treats since 1928. With a chewy texture and tangy cola flavour, these sweets will have you craving more and more!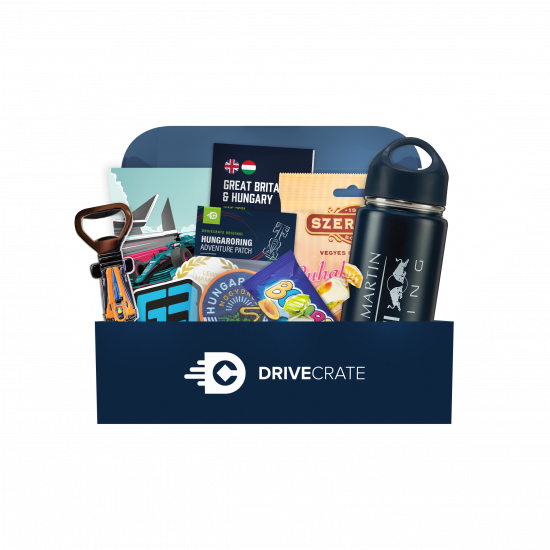 Official Red Bull Racing Flask
This sleek item from the official Red Bull team collection is great for when you're on the go. If you're heading to the track this year, make sure you use this to keep yourself hydrated while you watch the action!

Bottle Opener
British team McLaren are the third most successful team in history. Their striking papaya orange livery is captured in this great new item from Across The Line.

Aston Martin Silverstone Print
Featuring the now iconic Silverstone Wing, this stunning print from artist Jason Pooley captures the new Aston Martin team on track.

Szerencsi Fruits & Bombi Plum Gingerbread
These morish fruit-flavoured sweets are made by Szerencsi, a traditional Hungarian confectioner. The Bombi gingerbread is another delicious snack enjoyed throughout Hungary.
Lewis Hamilton & George Russell Stickers
Seven-time champion Lewis Hamilton is seeking a record eighth title after securing a two-year extension with the Silver Arrows. Fellow Briton, George Russell, will be waiting in the wings for a seat alongside him in 2022.