DRIVECRATE
PREVIOUS BOXES
Explore what was inside some of our recent boxes!
Scroll through past items and click or tap to learn more about them…

Scuderia Ferrari Thermal Mug
Enzo Ferrari himself was present when Imola was first opened back in 1950. Show your support for the Italian outfit with this o!cial team item. What do you think Charles Leclerc and new signing Carlos Sainz can achieve this year?

Antonio Giovinazzi Keyring
Currently the only Italian on the grid, Antonio Giovinazzi sported this special edition helmet at Imola last year. A brand-new item from Across The Line, this premium keyring is layered upon a black-dye plating and features the deep red colours of the Alfa Romeo livery.

'Watching On' by Tom Griffiths
Imola will forever be linked to Brazilian legend Ayrton Senna. Growing up, Senna was Lewis Hamilton's hero and it would have meant a lot to the now seven-time World Champion to win here last year.

Imola Track Art
The Autodromo Enzo e Dino Ferrari originally followed the natural bends of the Santerno river. This unique collectable from World Race Circuits captures every bend of this historical venue and is perfect to add to your collection!

Sperlari Fruit Jellies & Balocco Cocoa Wafers
Italian confectioners Sperlari and Balocco produce these delicious Italian treats that you won't be able to get enough of!

AlphaTauri AT02, Sainz Ferrari Helmet and Imola Sticker Set
Celebrating the Italian team's second car under the AlphaTauri name, Carlos Sainz's first season in red and the beautiful and exciting venue that is Imola.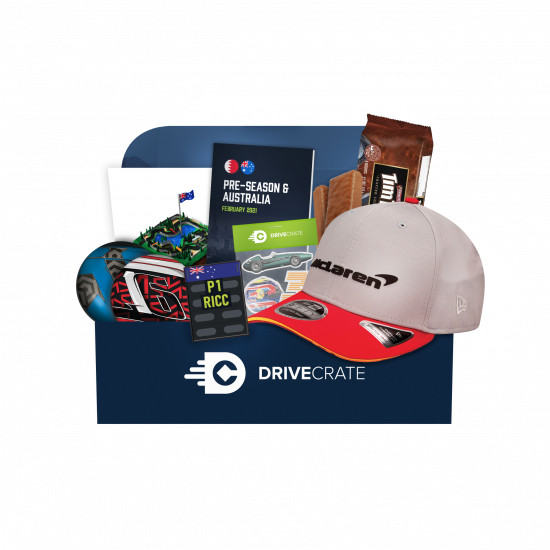 Official McLaren Cap
Although Carlos Sainz has now left the team, new recruit Daniel Ricciardo will be looking for a good start to his McLaren career. The MCL35M will also make its debut, as the team returns to Mercedes power.

Leclerc and Bottas DriveCrate Original Coasters
Add a little F1 to your desk! As Leclerc looks to establish himself as team leader at the Scuderia, Bottas will be looking to mount a serious challenge for the 2021 title.
Daniel Ricciardo Pit Board Magnet Pin
Whether you put it on your fridge or on your backpack, you can show your support for the lovable Australian with this exclusive magnet pin from Across The Line.

Arnott's 'Murray River' Salted Caramel Tim Tam
Australian company Arnott's have been producing Tim Tams since 1964. The delicious salt flakes of Australia's longest river are combined with gooey caramel sauce, crunchy biscuits and creamy milk chocolate.

Aston Martin DBR4, Ricciardo 3 and Webber Helmet Sticker Set
Celebrating the British marque's return to the grid, Ricciardo's move to the Woking-based team and the legendary Australian driver Mark Webber.

Albert Park Circuit Print by The Pitlane Collective
The home of the Australian GP has been beautifully captured in this original print by The Pitlane Collective. A great addition to your collection, this print reimagines the tight streets of Albert Park like never before.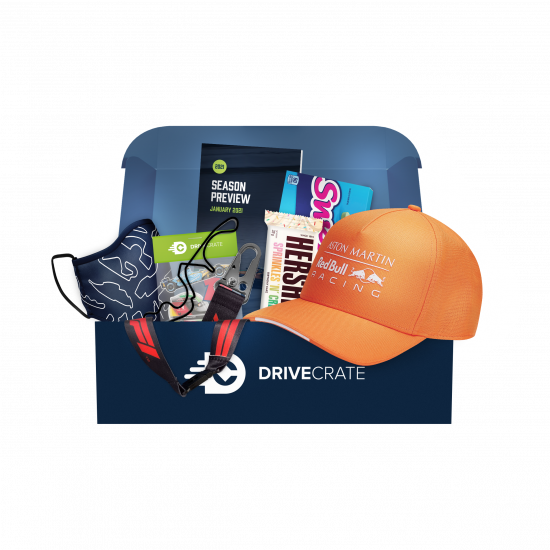 Official Red Bull Racing Cap
The Dutch GP returns this year for the first time since 1985! What better way to celebrate than to sport this bold cap, featuring the colours of the 'Orange Army'.

Official F1 Lanyard
In what is set to be a very interesting year with plenty of change, this handy lanyard is a great accessory for any motorsport lover!

DriveCrate Original 2021 Circuits Mask
Stay safe whilst showing your love of F1 with this mask, featuring the outlines of the tracks from this year's calendar!

Suzuka Track Art
AlphaTauri's new signing Yuki Tsunoda will become the first Japanese driver to race at home since Kamui Kobayashi in 2014. Enjoy the sweeping corners of F1's only figure-of-eight circuit with this awesome collectable from World Race Circuits.

Hershey's Sprinkles 'N' Crème & Wonka Sweetarts Candy
We're super excited to go back to the Circuit of the Americas later this year! Celebrate the return of this great race with these two iconic American confectionery brands.

Sergio Pérez, Mick Schumacher & R25 Sticker Set
Celebrating the Mexican's move to Red Bull, Schumacher's debut and the return of double World Champion Fernando Alonso. It was great to see the Spaniard demo the R25 last month in Abu Dhabi!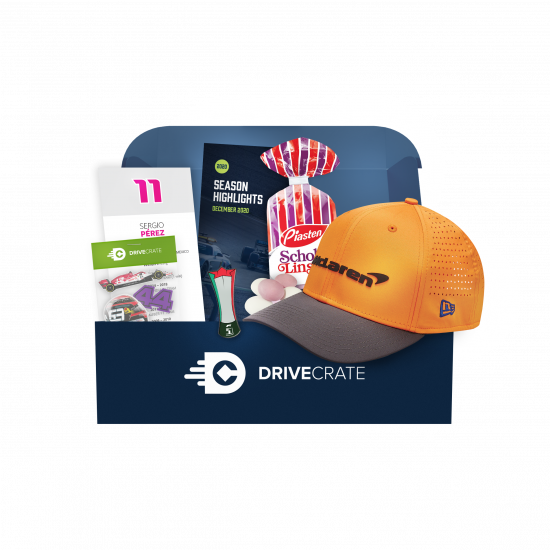 Official Carlos Sainz McLaren Cap
It has been an impressive season for the Spaniard and his McLaren team, which included a fantastic podium in Monza. Celebrate the British team's return to form with this official team item.

Pierre Gasly Italian GP Trophy Pin
Featuring the beautiful Italian GP trophy design which Pierre Gasly raised on the top step of the podium at Monza. This stylish pin from Across The Line is great to add to your collection.

Piasten Schokolinsen
We're throwing it back to the dramatic season opener in Spielberg, which saw Albon suffer a late tangle with Hamilton. A popular Austrian import, these small sweets have a melt-in-the-mouth chocolate core, covered in a crisp peppermint coating. Delicious!

LH44, Russell's Mercedes Helmet & C39 Sticker Set
Celebrating the seven-time champion's new purple design, Russell's shock Mercedes substitution and Kimi becoming the most- experienced driver in history.

Sergio Pérez Driver Card
It's been a fantastic season for the Mexican, as he fought to save his place on the grid. The Racing Point veteran took an unexpected win in Sakhir, becoming the first driver in history to win after being last on lap one!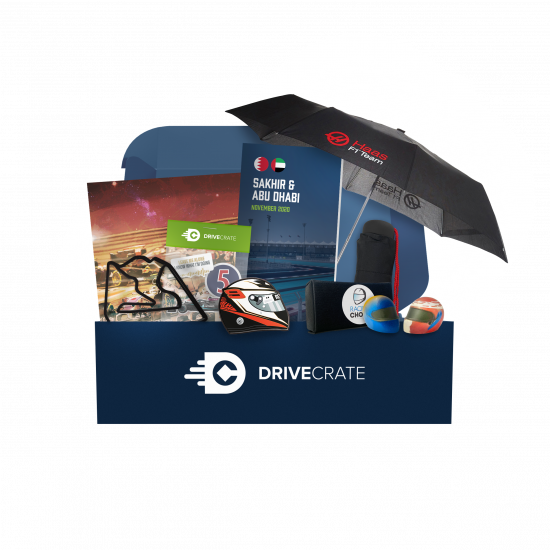 Official Haas F1 Team Umbrella
As we approach winter, stay dry with this official Haas umbrella, featuring the logo of the American team.

Kimi Räikkönen 2012 Helmet Pin
Celebrate one of Kimi's most famous wins with this collectable pin from Across the Line! Kimi took an unexpected victory at the 2012 Abu Dhabi GP driving for Lotus.

Pérez & Alonso 'Racing Chocs'
Enjoy these awesome chocolate helmets featuring the designs of Sergio Pérez and Fernando Alonso. Pérez took a surprise podium at the 2014 Bahrain GP. The 2018 Abu Dhabi GP also saw Alonso celebrate his final race (or so we thought!)

Bahrain Mini Track
This year we have two races in Bahrain! This original artwork from World Race Circuits shows how the 'Outer Circuit' bypasses most of the classic GP circuit.

Kimi, W11 and Vettel Stickers
Celebrating Seb's first world title in 2010, Kimi's iconic team radio and this year's all- dominant Mercedes W11.

Bahrain GP 2014 Artwork
Take a look back at one of the most memorable races in the turbo-hybrid era! Celebrate Hamilton and Rosberg's famous battle with this original print.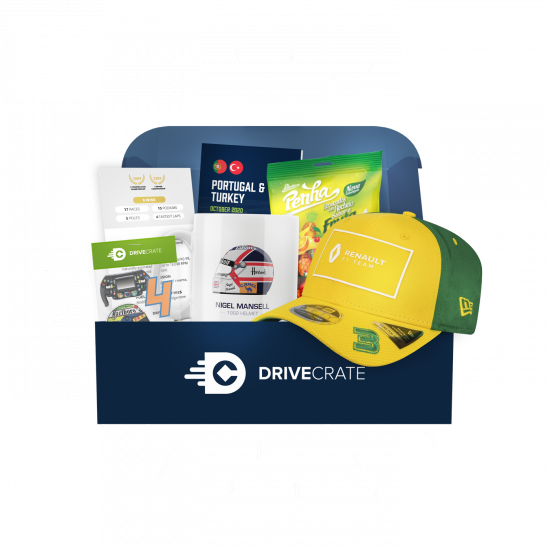 Daniel Ricciardo Renault Cap
Daniel Ricciardo secured the British F3 International Series championship at the Algarve International Circuit in 2009. Add this cap to your collection before Renault is re-born as Alpine next year!

Nigel Mansell Mug
Nigel Mansell is tied with Alain Prost for the most wins at the Portuguese GP, with three wins each. Celebrate his success with this stylish DriveCrate Original mug.

Penha Fruit-filled Sweets
Portuguese confectionery makers Penha have been making delicious products for over 40 years. You'll be sure to love the fruity taste – which flavour is your favourite?

Massa, Norris and Mercedes Sticker Set
Celebrating Felipe Massa's three Turkish GP wins, Britain's upcoming star Lando Norris and the steering wheel of the dominant Silver Arrows.

Brawn GP Card
The legendary Brawn GP team have tasted success in Turkey on route to the championship. Jenson Button took his BGP 001 to the top step of the podium in 2009.