DRIVECRATE
PREVIOUS BOXES
Explore what was inside some of our recent boxes!
Scroll through past items and click or tap to learn more about them…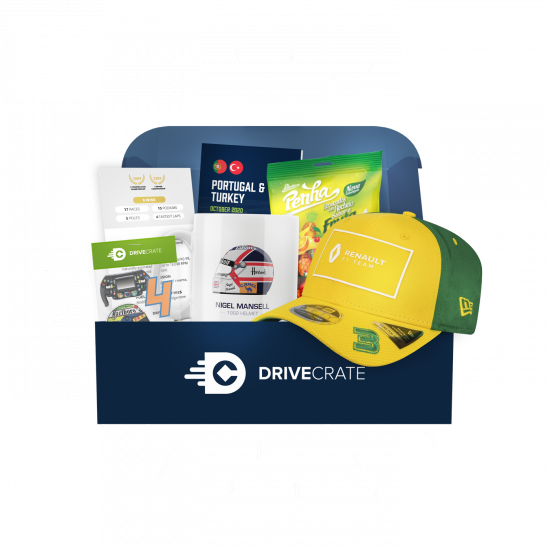 Daniel Ricciardo Renault Cap
Daniel Ricciardo secured the British F3 International Series championship at the Algarve International Circuit in 2009. Add this cap to your collection before Renault is re-born as Alpine next year!

Nigel Mansell Mug
Nigel Mansell is tied with Alain Prost for the most wins at the Portuguese GP, with three wins each. Celebrate his success with this stylish DriveCrate Original mug.

Penha Fruit-filled Sweets
Portuguese confectionery makers Penha have been making delicious products for over 40 years. You'll be sure to love the fruity taste – which flavour is your favourite?

Massa, Norris and Mercedes Sticker Set
Celebrating Felipe Massa's three Turkish GP wins, Britain's upcoming star Lando Norris and the steering wheel of the dominant Silver Arrows.

Brawn GP Card
The legendary Brawn GP team have tasted success in Turkey on route to the championship. Jenson Button took his BGP 001 to the top step of the podium in 2009.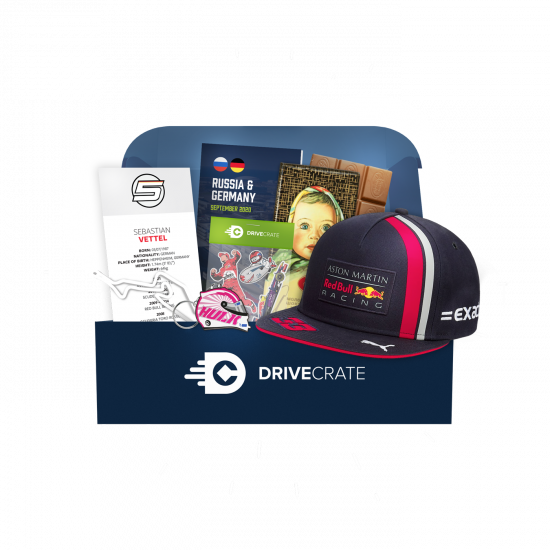 Official Max Verstappen Cap
The Red Bull driver won the 2019 German GP – one of the most eventful races of the year! Celebrate his success with this official merchandise.

Nico Hülkenberg Helmet Keyring
The German driver made a surprise appearance during the races at Silverstone. During the 70th Anniversary GP, Hülkenberg sported this striking helmet, featuring his classic design in the pink Racing Point colours.

'Alenka' Russian Milk Chocolate
This famous Russian chocolate has been produced by confectioners "Red October" for over 60 years. It takes its name from the daughter of the first woman in space, Valentina Tereshkova.

Nürburgring Special Edition Track Art
F1 returns to the infamous Nürburgring GP circuit for the first time since 2013! What better way to celebrate than to add this iconic circuit to your track collection!

Vettel, Schumacher and Kvyat Sticket Set
Remembering Vettel's championship-winning RB9, Schumacher's eccentric podium celebrations and the time Kvyat drove 'like a torpedo'.

Sebastian Vettel Driver Card
Germany's second-most successful driver and four-time World Champion currently drives for the Scuderia but it set to move to Aston Martin in 2021.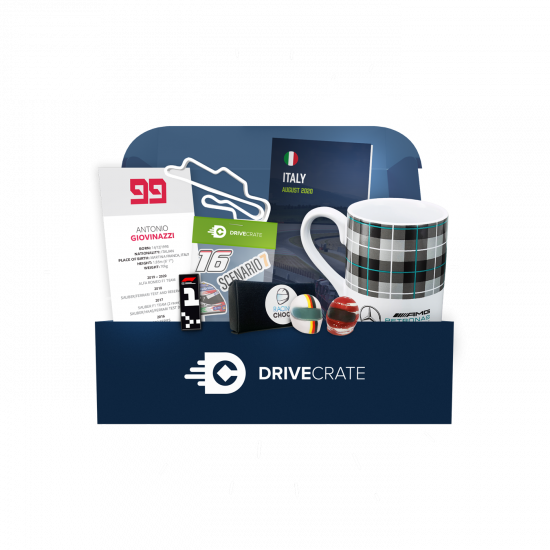 Official Mercedes 2020 Mug
The Silver Arrows have a history of success at the Italian GP. Show your support with this new official 2020 Mercedes mug, featuring the team logo and check pattern details.

Parc Fermé Pin
The iconic sign that all drivers want to see. A great addition to any F1 fan's collection. Remember when Vettel switched the board in Canada 2019?!

Vettel and Schumacher 'Racing Chocs'
Handmade just 20 minutes away from Silverstone race circuit. These chocolates, featuring the designs of famous Ferrari drivers Michael Schumacher and Sebastian Vettel, are simply too good to eat!

Mugello Special Edition Track Art
Celebrating the Tuscan GP's surprise addition to the calendar, this white special addition track art from World Race Circuits beautifully captures the flowing, high-speed corners of Mugello.

Scenario7, CL16 and Fisichella Helmet Sticker Set
Featuring Lando Norris' latest catchphrase, Charles Leclerc's stylish '16' logo as well as the helmet design of one of Italy's most memorable drivers, Giancarlo Fisichella, who scored three wins during his 14 seasons.

Antonio Giovinazzi Driver Card
The only Italian driver on the grid, its only right Antonio Giovinazzi drives for Italian team Alfa Romeo and is official test and reserve driver for Ferrari.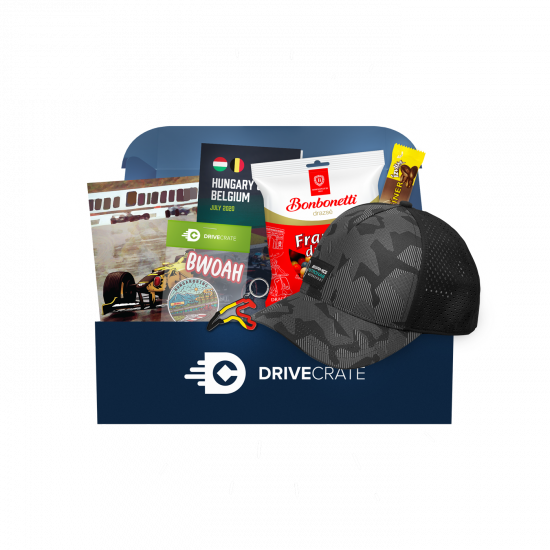 Official Mercedes Cap
Mercedes have seen considerable success at the Belgian GP over the years, taking three wins since the start of the hybrid era.

Spa-Francorchamps Keyring
Spa-Francorchamps is one of the most recognisable tracks on the calendar. Make your keys more interesting with this stylish keyring from Across The Line.

Francia Drazsé Hungarian Chocolate
A popular Hungarian treat. Sweet chocolate with a crunchy sugar coating. Made in Hungary!

Kapucíner Dark Chocolate & Coffee Bar
Delicious Hungarian Slice filled with coffee and cream, dipped in dark chocolate. Made in Hungary!

Bwoah & Hungaroring Sticker Set
Kimi is known as the 'King of Spa', with four wins at the track so far. Celebrate with Kimi's most iconic quote. The Hungarian GP is always an eventful race. The twists and turns of the Hungaroring are beautifully captured in the colourful sticker.

Damon Hill 1998 Belgian GP Artwork
The 1998 Belgian GP was one of the most eventful and controversial races on record. Remember this day with this original artwork, which saw Damon Hill take an unlikely win.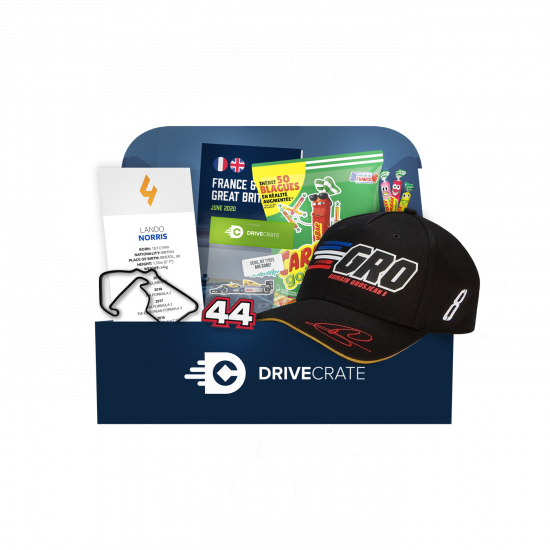 Romain Grosjean Haas Cap
Celebrate France's home-grown talent with this official Haas cap, featuring the infamous Rich Energy!

Silverstone Mini Track
The iconic corners of Stowe, Maggots and Becketts are beautifully captured in this original artwork from World Race Circuits.

Lewis Hamilton 44 Pin
The British driver is one of the best the sport has ever seen. Celebrate his success with this stylish '44' enamel pin.

Carambar Fruits
A popular French treat, the fruity flavour will have you coming back for more!

FW14 and Lewis Hamilton Sticker Set
Recalling one of Hamilton's most iconic phrases and Nigel Mansell's title-winning Williams from 1992.

Lando Norris Driver Card
One of Britain's most promising young talents, show your support for Lando Norris with this stunning original print.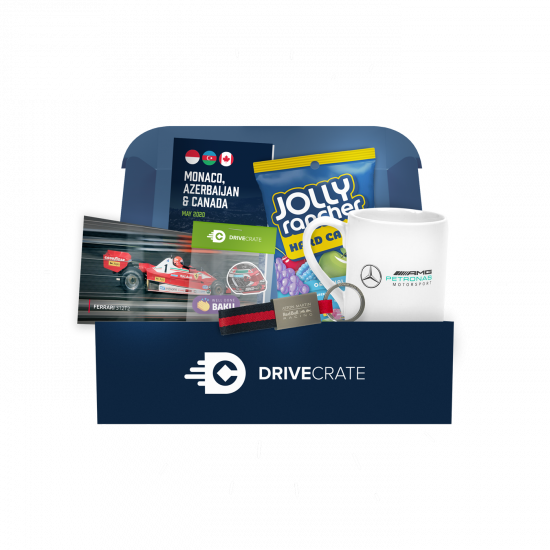 Official Keyring
Another great collectible for any F1 fan. Add some style to your keys with this official team item.

Official Team Mug
This team has won F1's most crazy race in Baku. Celebrate their success with this official team merchandise, perfect for a cuppa while you watch the action unfold!

Baku and Charles Leclerc Sticker Set
Celebrating Baku's infamous self-praise and Monaco's home-grown talent Leclerc.

Jolly Rancher Original Hard Candy
With a tangy, fruity taste, Jolly Ranchers are one of the most popular candies in Canada and have been produced in the country since 1996.

Monaco GP Track Card
The Monaco GP is the most historic race on the calendar. See how it has evolved over time with this stunning original print, featuring Niki Lauda's iconic Ferrari.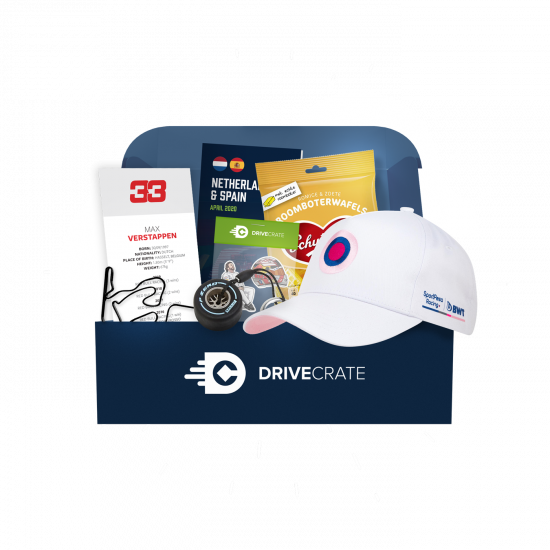 Official Racing Point Team Cap
Show your support for the Silverstone based team with this brand new cap, featuring the stylish 'Point' logo

Official Pirelli Tyre Keyring
Pirelli are bringing a unique tyre design for Zandvoort race, specifically designed to cope with the new banking on the final corner. Customise your keys with this awesome collectable!

Schuttelaar Cream Butter Waffles
With a creamy and sweet taste, these waffles are a true Dutch classic. Schuttelaar are a famous Dutch brand, making delicious products to authentic recipes since 1918.

Zandvoort and Barcelona Mini Tracks
The tight and twisty Circuit Zandvoort and the fast and flowing Circuit de Barcelona-Catalunya are beautifully captured in these track cutouts by World Race Circuits.

Verstappen and Alonso Sticker Set
Max Verstappen's helmet design is one of our favourites, featuring a stand-out white and red colours, any driver would be scared seeing it in their mirrors! Spain's most successful driver, Fernando Alonso, once famously broke down during qualifying for the 2015 Brazilian GP. Alonso then took a seat in a marshall's deckchair and this famous meme was born. We miss you, Nando.

Verstappen Driver Card
Get to know Holland's home hero a little better with this original print. Great for any F1 fan's collection.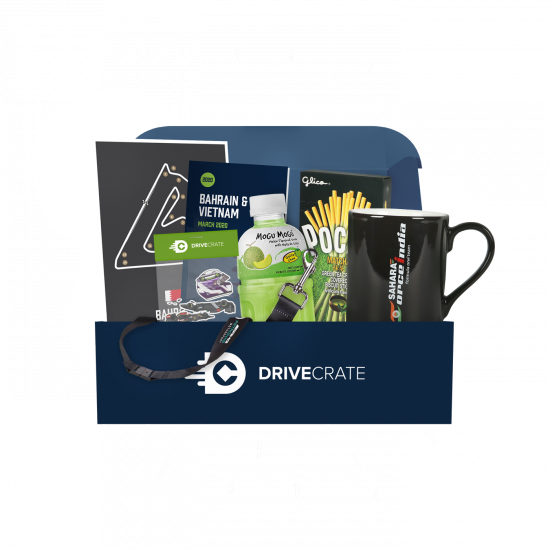 Official Team Mug
Enjoy your morning coffee in this official team mug. Perfect for whatever drink you fancy

Mercedes Official Lanyard
The cars look great under the lights in Bahrain and now, so will you with this brand new official Mercedes lanyard. Who remembers that epic battle between Rosberg and Hamilton in 2014?

Pocky Matcha Green Tea
One of Vietnam's favourite imports, Pocky Matcha blends the distinct flavour of finely powdered green tea ("matcha") into a smooth cream wrapped around a tasty, crispy cookie biscuit stick.

Mogu Mogu Drink
Offering a tangy, tropical flavour with chewy coconut jelly chunks (Nata de Coco). Which flavour did you get?

Hamilton and Maldonado Sticker Set
The Mercedes driver has unveiled a stunning purple helmet design for this season, breaking away from his traditional white helmet that has become synonymous with his recent domination. We've also captured the Bahrain GP's most infamous moment. Maldonado flipped Gutiérrez at turn one in 2014, luckily both drivers walked away unhurt.

Bahrain GP Poster
Every twist and turn of the Bahrain International Circuit is captured in this original print. Perfect for any motorsport lovers wall.